Let's cast The Maltese Falcon remake!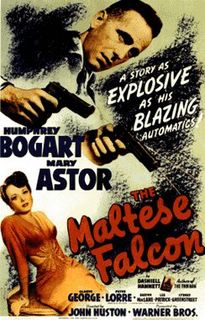 Sure,
The Maltese Falcon
is a great movie, but that's never stopped people from remaking movies in the past! It's also been made more than once, and we only remember the 1941 version because it's the last time it's been made. Come on! Let's cast the remake!
Okay,
the last time I did this,
only
Thomas
participated, because he's awesome. But everyone should jump right in this time!
In case you're unfamiliar with this rather excellent slice of film
noir
, well, shame on you. But
here is the cast list.
So let's do some casting!
The reason most movies shouldn't be remade isn't because of the story, but because the casting is perfect. Come on - Audrey Hepburn or Julia Ormond in
Sabrina
? John Huston's version of
The Maltese Falcon
has an almost perfect cast, and that's why no one has redone it. I'm sure
Jerry Bruckheimer
is considering it! Of course, he'd have to find a Sam Spade. In the original it was Bogart:
Boy, what a good choice. Who can replace him?

The
femme fatale
in a film
noir
is also pretty important. Mary Astor played Brigid O'Shaughnessy in the 1941 version:
That's her on the left, by the way.

The magnificent Peter Lorre played Joel Cairo, whom Lorre played a tad effeminate. Of course, Lorre played everything a bit effeminate. And creepy!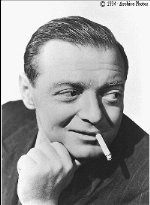 And Sydney Greenstreet played Kasper Gutman, who wants the Falcon more than anything and has that great scene at the end when he goes a bit ballistic as he discovers the bird is fake. He's a big man - who can fill that role?

Here's the whole cast, in case you forgot what they looked like:

A couple of key cast members for whom I could not find pictures: Effie Perine, played by Lee Patrick, as Spade's girl Friday, and Elisha Cook, Jr. as Wilmer Cook, the idiot gunsel whom they all frame at the end. Cook, of course, is also known as Ice Pick from
Magnum, P.I.
What a great show.
Anyway, get to work, people! It opens Christmas of 2006, just in time for Oscar consideration!